jactynogg zontaanaco ジャkuティー乃愚・存taアkoコ
contact Gonzo × yang02
ABOUT
A historical act of co-evolution of the body, artificial intelligence, and knowledge.
The artists' collective contact Gonzo, which performs improvisational performances that bring the body into contact, and Yang02, an artist who questions the subjectivity of artistic expression through the use of autonomous machines and other devices, will create a new work in 2023 based on their performance piece ""untitled session"" created in 2019. The performance ""jactynogg zontaanaco ジャkuティー乃愚・存taアkoコ"" will be created and unveiled.
In this performance work, contact Gonzo's improvised performance is recognized (misrecognized) as images, converted into language, and spoken through a self-driving machine created by yang02. contact Gonzo's physical movements can be output as natural language using an artificial intelligence model that can learn recent images. The body movements by contact Gonzo can be output as natural language using the recent artificial intelligence model that learns images. However, intelligent ways of recognizing the body are not limited to language and vision. This performance will incorporate the latest interactive AI into the system and intervene in bodily expressions as a new translator to uncover unknown forms of knowledge.
About the Event
Outline of the event
Dates: Friday, May 19 – Sunday, May 21, 2023
Friday, May 19, 19:00
Saturday, May 20, 15:00 *After Talk
May 21 (Sun) 15:00
Running time: approx. 60 min.
Venue: ANOMALY (1-33-10 Higashi-Shinagawa, Shinagawa-ku, Tokyo)
7 min. walk from North Exit of Shimbamba Station on Keikyu-Main Line
8 min. walk from Exit B of Tennozu Isle Station on Rinkai Line (Tokyo Waterfront Area Rapid Transit)
10-minute walk from Tokyo Monorail Tennozu Isle Station South Exit
20 min. walk from Konan Exit of JR Shinagawa Station
Participation fee:
General Admission ¥6,000
General|¥3,000 in advance, ¥3,500 at the door
U25|¥2,500 in advance, ¥3,000 at the door
Special offer: A piece of artwork created during the performance will be given to the audience on the day of the event. Limited number of tickets available for advance purchase only.
Ticket sales on the day of the performance are subject to availability depending on reservations.
Free admission for one person with a disability certificate and one caregiver.
Tickets available: Peatix and at the door
Accessibility support:
Japanese subtitles (AI speech only)
AI and humans will translate the performance into spoken language.
---
How to apply
Artist Profile
contact Gonzo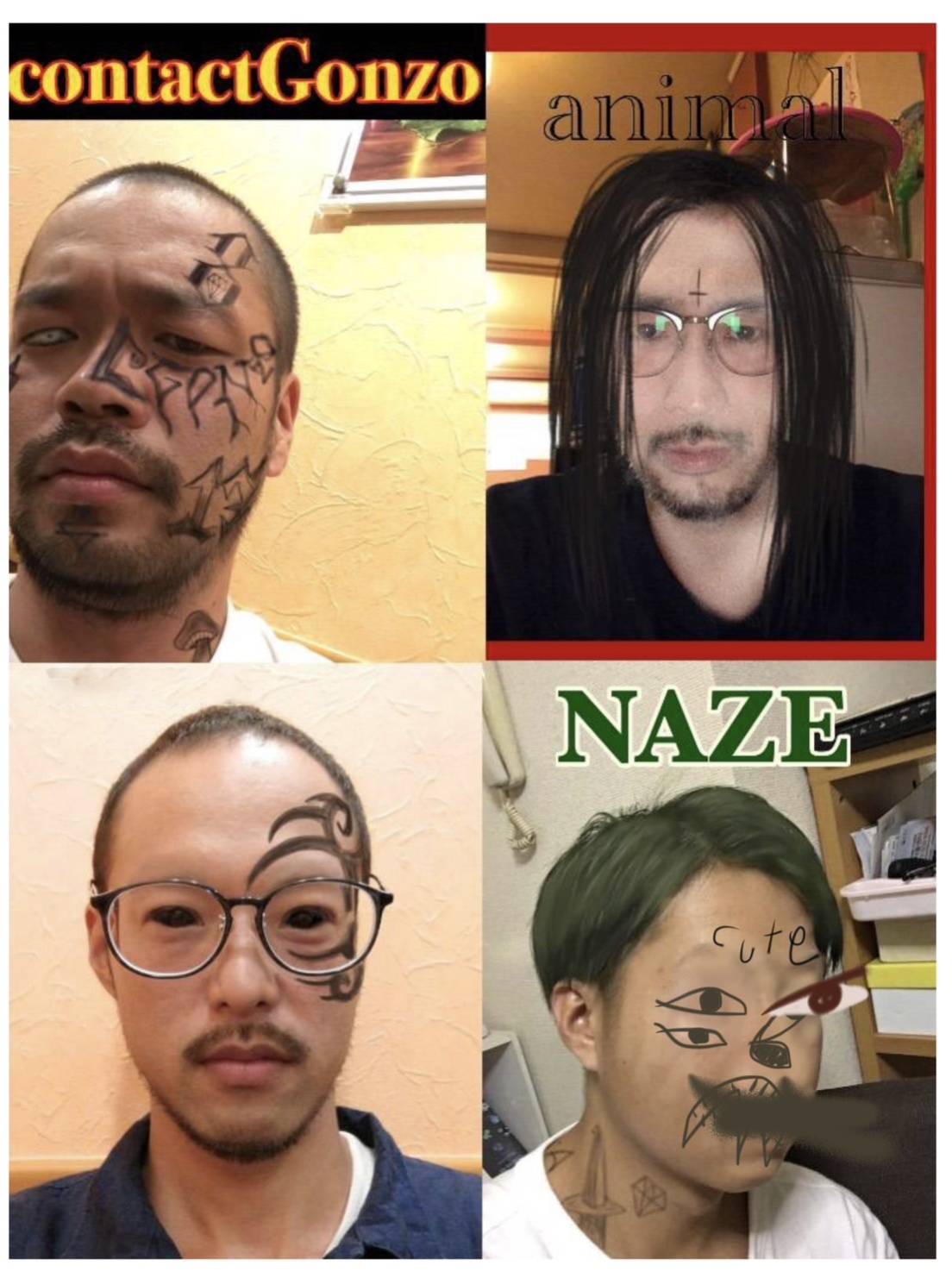 A performance group formed in 2006 by Yuya Tsukahara and Masaru Kakio. contact Gonzo" is both the name of the group and the name of their unique methodology of "contacting" the body. The group creates video and photographic works, while performing improvised performances in the city and at performances. Since its formation, the group has been active in utilizing the media, uploading video recordings of its performances to YouTube. In addition, since participating in the "Jiro Yoshihara Memorial Art Project" in 2007, they have attracted attention in the field of contemporary art, participating in many international exhibitions and art festivals. 13 years ago, they presented a performance at the Museum of Modern Art (MoMA) in New York. The current members are NAZE, Takuya Matsumi, Keigo Mikajiri, and Yuya Tsukahara. Their diverse activities include performances, installations, publishing a magazine, selling their works on Mercari, and holding The Avalanche Festival.
yang02
Born in 1984, artist. Graduated from Tama Art University's Graduate School of Design in 2009. He produces many works based on digital media that question the subjectivity of expression by exposing the human body by relegating the subjectivity of action to autonomous devices and external factors. In the 15th Japan Media Arts Festival, "Senseless Drawing Bot" won the New Artist Award. In 2013, he was selected for the Japan Foundation Overseas Study Program for Emerging Artists and stayed in Barcelona and Berlin. Currently based in Kanagawa and Chiba. Recent major exhibitions include "Sapporo International Art Festival 2014" (Chi-Ca-Ho, 14), "Aichi Triennale 2016" (Aichi Prefectural Museum of Art, Aichi, 16), "DOMANI, Tomorrow Exhibition" (The National Art Center, Tokyo, 18), "Someone Far Away, Where Things Are" (Sapporo Arts and Culture Center [SCARTS], 2009), "Roppongi Crossing 2022: Come and Go! (Mori Art Museum, 2010). http://yang02.com/
Credit
Direction/Composition: contact Gonzo, yang02
Cast: contact Gonzo (Yuya Tsukahara, Keigo Mikajiri, Takuya Matsumi, NAZE)
Technical Design: yang02,Takanobu Inafuku (HAUS)
Stage Manager: Takashi Kawachi
Producer: Tamiko Ouki (PRECOG Inc.)
Concept Advisor: Kumiko Idaka
Project Manager : Natsumi Kato
Voting, Assistant Project Manager: Ema Murakami (precog Inc.)
Organizer: precog Inc.
Supported by: Arts Council Tokyo, Japan Arts Council
Cooperation: ANOMALY, Chishima Foundation for Creative Osaka
Related Tags